About Us

We are the country's pioneering online makeup organizer store and the trend-setter for the Malaysian market for this niche.
With endless support from fellow Malaysian customers and demands from international makeup enthusiasts, we are now expanding and ready to serve internationally. Our luxurious and polished product range has expanded from makeup organizers to skincare organizers, and in the future we plan to incorporate bathroom organizers and other household organizers to fulfill your needs.

Brand Story
AvantBox is a trade name by BeautyBox Trading, a vanity company that is based in Malaysia. We specialize in providing vanity tools, mainly focused on acrylic makeup organizers.
Avant is "forward" in French. It symbolizes us as the leader, the first, and the foremost. We constantly develop new designs to best suit the needs of our consumers. As each of our products are designed in-house, we do not rely on ready-made designs. Made by makeup enthusiasts for makeup enthusiasts, we are different than the rest - we are the one and only.
Aside from makeup organizers, we also serve the needs for skincare, body care and bath organizations.
Our range of products mainly includes
lipstick holders
lip gloss holders
brush holders
eyelash organizers
skincare organizers
makeup palette organizers
drawer type cosmetic organizers
beauty sponge holders
vanity trays
vanity mirrors
bath counter trays
Our Technology
AvantBox acrylic products are made of top grade, 100% new acrylic, 0% recycled acrylic. As a result, our clear acrylics are clear without yellowish or bluish tint that shows with recycled acrylics. All our acrylic materials are produced in Germany.
Our manufacturer has an excellent track record on acrylic production and they are constantly evolving in their processing technology. The factory uses advanced processing equipment imported from Japan. Seamless joints and smooth surfaces are the result of skilled personnel combined with equipment such as diamond polishing tools and CNC machines.
AvantBox QA/QC imposed ensures that the product quality is consistent throughout all of our batches.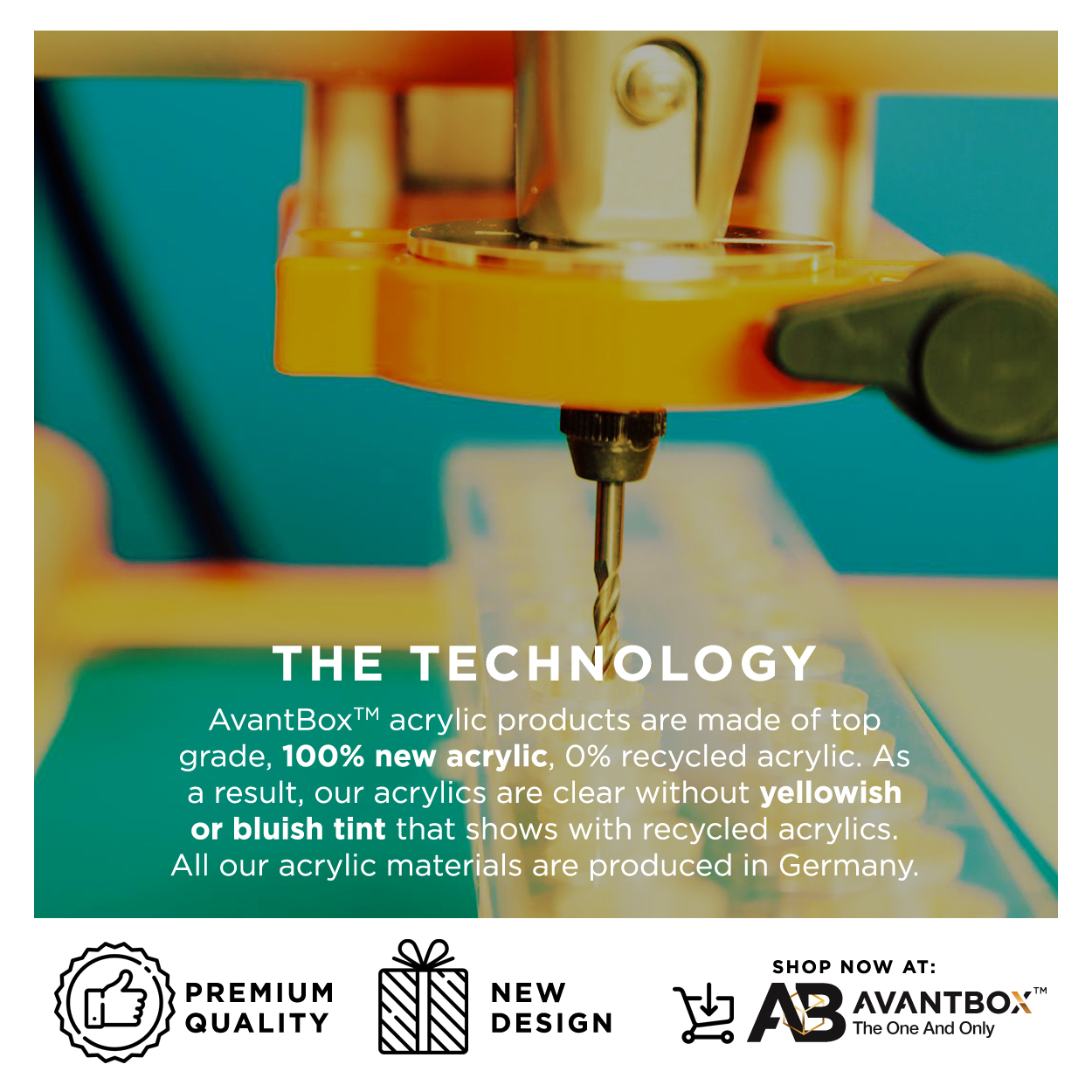 Founder's note

Hello,
Thank you for taking your time to read the story about AvantBox.
AvantBox is my dear soul where I have poured my passion into and worked my sleepless nights for it.
I have made a leap of faith, coming from engineering background to pursue my passion for the beauty industry.
Although officially registered in 2016, I have been running this business since 2010 during my university studies. As a makeup enthusiast, I realized there was a huge section that the Malaysian market was missing out - that it needed a solution for the common problem of vanity storage and organization. Hence, I created the brand BeautyBox and worked on the project part-timely, helping makeup lovers all over Malaysia to have their dream organizers.
I started my career as a process engineer in 2013. July 2016, I Ieft process engineering to focus on this endeavor in the niche of vanity organization. At this time, we started a team dedicated to bring BeautyBox forward. We rebranded ourselves as AvantBox, the name "Avant" symbolizes us as the leader, the first, and the foremost. We are a company that produces our own designs and we strive within to march forward.
Our product quality is unequivocally excellent from the design to material to the craftsmanship. Fueled with passion to create your dream vanity tools, can you not love us?
I hope that AvantBox will be able to serve all your vanity organization needs and we will continue to strive to be the best in Malaysia.
Thank you for your support!
Love,
Raudhah